Support for Parents
---
This can be a difficult time for both you and your child. However, there are many others who are going through the same thing. If you're ever feeling helpless and confused, these mothers are here to help. They have been integral in providing content for our JSpA community.
Emily Neu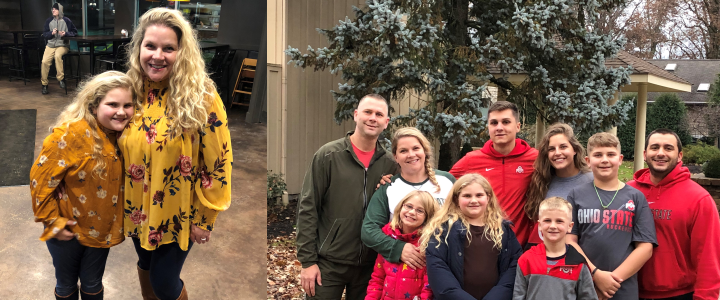 Emily Neu is mother of six children, including Antoinette who has been diagnosed with Ankylosing Spondylitis. Emily works full-time as a Marketing Manager at a Fortune 500 food company and holds an MBA from Louisiana State University – Shreveport. Emily is a parent advocate for CARRA (Childhood Arthritis and Rheumatology Research Alliance), committee member for the Arthritis Foundation Jingle Bell Run and advocates alongside Antoinette in Washington DC when they are in town for Antoinette's appointments at NIH (National Institute of Health). The Neu family founded Anna's Angels which is a nonprofit group that does different fundraising activities in support of research specifically in the field of Spondylitis. They are very excited to partner with SAA and early investigators through their fundraising efforts.
Antoinette was diagnosed at just 3 years old with Ankylosing Spondylitis. She is a fierce advocate for herself and others fighting any form of arthritis. She storms the Capitol in DC to speak with Congressmen and Congresswomen about the need for funding for research and healthcare needs. Antoinette has written a few pamphlets regarding how it feels to go through different tests and medications from a young child's perspective in the hopes that it will bring comfort to newly diagnosed children. You are not alone!
Emily and Antoinette want to make sure you know that you are not alone and there is HOPE! We have had the opportunity to have met the many doctors and researchers who work every day to bring new medications and advancements to our Spondylitis Community. We may not be able to control the disease or the symptoms at times, but we can fight, fundraise and make sure our voices are heard! There is an entire community who UNDERSTANDS how you are feeling and we are here when you just need to talk or ask questions.
Belen Diaz de Leon-Gonzalez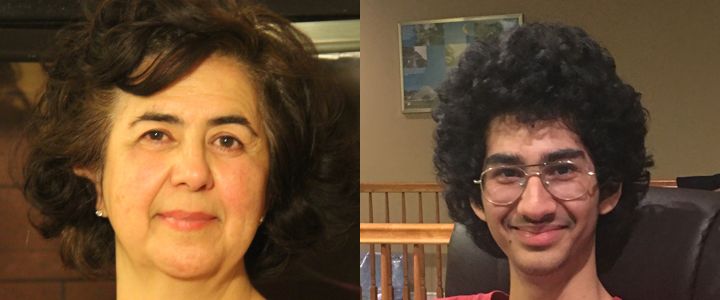 Being a parent is the most amazing and beautiful vocation that one can experience. We have so many hopes and dreams for our children. As parents, we instill these aspirations in our children. The emotional highs we experience are exhilarating: when we see them smile for the first time, take their first steps, and say "mama" or "papa" for the first time.  And of course, you never forget their first day of school. The anticipation of seeing them explore and learn from their little world is fulfilling but it also overwhelms us with concerns and fears, some rational, others irrational.
Having a child diagnosed with a chronic disease such as ankylosing spondylitis (AS), or by that matter any form of spondylitis, forces us as parents to embark on an emotional roller coaster ride with many highs and lows, twists, and sudden turns. It's an experience we would rather not be forced to endure. I was forced on this ride in the spring of 2017 when my then fifteen-year-old son, Miguel, was diagnosed with AS. I remember experiencing a deep sadness and fear; sometimes I would cry myself to sleep. Initially, due to my denial of the diagnosis, I was noncompliant to his doctor's treatment plan. I would continuously ask myself, "Why my son?" and my thoughts were consumed with "What if" questions.  After getting over the disbelief and anger, I was able to refocus and follow the treatment plan. I also recognized the importance of early diagnosis. I am very grateful for my son's rheumatologist, Dr. Robert Sheets, M.D. at Rady Children's Hospital in San Diego. He is patient and supportive. Not only has he educated me about the disease, but he also referred me to the Spondylitis Association of America (SAA) website for additional information. Having a better understanding and knowledge about the disease has indeed empowered me.
Without a doubt, AS has transformed our home. For example, my son decided to complete his high school education by participating in a virtual home-school based program. Arriving late to school and absences caused by pain and fatigue were taking a toll on him.  Although this has meant not being able to apply to his dream college, he has grown exponentially since starting the home-based program. This is not to say he has not experienced difficult moments and he prefers not to talk about the AS. However, when necessary, he is open to talking. I always make sure to give him his space.
It is normal (and human) to try to search for answers in the past. I still ask myself many questions as to what I could have done before the diagnosis:  What if I would have insisted on further testing when he was thirteen and experiencing symptoms? What if I would have taken better care of my son? I also find myself placing energy in the future:  What if the biologics stop working or what if my son experiences negative side effects due to the medication? This is both emotionally and physically debilitating.
To be clear, the uncertainties are exhausting. As parents of children with a chronic disease, we need to be strong for our young warriors because having any form of spondylitis represents a lifelong challenge. When we are grounded in the reality of the condition and have knowledge about the disease, we can construct positive ways to face the disease. We need to see that our children can thrive despite their illness.  We need to embrace the periods of growth, improvement, and progress which will strengthen us for the low moments.
Hope gives us the motivation to continue moving forward and is reassuring.  Immerse yourself in positive affirmations. When experiencing a low moment, if possible, take some time to care of yourself. For example, when I am experiencing a difficult period, the key word I use with family and friends is "hermit."   When they hear that term, they know I need time alone in order to restore my positive thoughts, spirit, and energy.
Although having any type of spondylitis is a roller coaster ride one would rather not undertake, understand that you are not alone. Just take a moment to refocus and reflect and know that the SAA and the volunteers are here to support you, your child, and your family. Search in the deepest part of your heart for the strength and courage to continue advocating for your young warrior.  Besides, your child needs the unwavering, resilient parent that you are!
When I approach a child, he inspires in me two sentiments; tenderness for what he is, and respect for what he may become. -Louis Pasteur
For my personal bio, please search the SAA website under Support Groups, SoCal Parent Support Group.