Growing Into My AS
By Asad Khan, age 15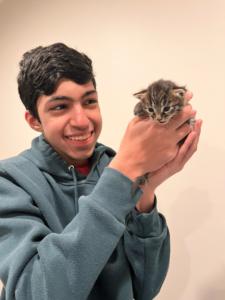 One of my earliest memories of severe, inexplicable pain in my legs was at the age of four. I recall waking up from anesthesia with a Band-Aid on my knee and no idea what had happened.
In the weeks leading up to this, I had suddenly stopped walking and resorted to crawling around my home to get from one place to another. My parents set up appointments with various specialists to understand what could be causing this issue. One of the doctors recommended a steroid shot to address the pain in my knee. My parents, hopeful that this would solve the situation, made an appointment to administer the injection.
The pain went away for several years but came back aggressively when I was nine years old. One day I woke up unable to move my legs. Scared and confused, I called out to my parents, who helped me get out of bed and use the bathroom. I noticed that as I started to walk more, the pain decreased. So, every day before school, my mom would help me practice walking until the pain felt better. We tried Epsom salt baths to reduce the pain, but every morning it would come back just as strong and agonizing as the day before.
Finally, after seeing many specialists, I was diagnosed with ankylosing spondylitis (AS) under the care of Dr. Pamela Weiss. I learned that if left untreated, this condition could create chronic pain, and might even cause my vertebrae to fuse.
Although my diagnosis was life-changing, my parents and I finally felt a sense of control over what initially seemed like a debilitating and unmanageable condition. I was prescribed Humira (adalimumab) which was to be administered every other week by injection. Even though Dr. Weiss walked us through all the steps, my parents and I were terrified the first time we had to give the injection at home. A process that should take less than 30 seconds took about 45 minutes and I still remember the burning sensation in my leg as the medicine entered my muscles for the first time. However, the next day I woke up and jumped out of my bed carefree, running around without feeling any pain whatsoever—a feeling I had not felt in months.
Fast-forward six years: I am now 15 and a sophomore in high school. I have learned to self-administer the injection, and the pain of the needle and medicine doesn't bother me anymore. I am blessed to be completely pain-free. I can also do everything my peers can do: I enjoy playing tennis with my friends, biking regularly, and doing laps in the local pool. I also like to read and have started to take an interest in frisbee. My family fosters kittens, too—another of my hobbies.
Living with AS has taught me a few things. I have learned the value of good health, something no one should take for granted. I have also come to understand just how fascinating medicine is and how much it can change someone's life—every day I wake up and I can do whatever I want, something that would not be possible without treatment.
This experience has inspired me to pursue a career in the medical field one day. This will allow me to give back and improve the lives of others just as mine has improved with proper care. I believe that with more research, many new advancements can be made that will make my future—and those of others like me—even brighter.